Holiday park in Metz
Holidays in Metz
Les Trois Forêts - Moselle Lorraine
A must-visit enchanting forest near Metz
Spend an idyllic holiday immersed in a forest where every season has its charms. The exhilarating colours of nature and bubbling streams will transport you far away from the stresses of everyday life.
Located in Eastern France near Metz, Les Trois Forêts is in a lush, beautiful forest, perfect for relaxing or, for active types, indulging in a wide range of sporting activities.
A stay at Les Trois Forêts is the perfect opportunity to explore the area, including the nearby city of Metz. Extend your
holiday in France
to include a weekend in Metz where you must visit the stunning cathedral, as well as experiencing the local cuisine and deep-rooted traditions of this city's rich history.
Les Trois Forêts is also an ideal base for holidays in Moselle Lorraine. At the heart of an immense 435-acre forest, great adventures are just waiting to be had! Whether you're on a family holiday in Metz or staying with friends, this beautiful area offers a variety of activities for visitors young and old. Discover the charms of the area by bike while enjoying the surrounding natural beauty and true peace of the rural landscape.
Spending your holidays with children in Metz? There's no better place to spend time together than at the water park in Metz, complete with gigantic water slide. At the nearby farm, aside from discovering animals, your family can enjoy a number of activities perfect for kids, from mini-carting to climbing. Adventure lovers will delight in the thrills at the Adventure Park at the leisure park of Metz, especially the Cool Jump, a free fall of 8 meters that is sure to be a thrill. There are more than 60 activities in this leisure park in Metz - you can't fail to have a great time.
Spend time relaxing during a weekend in Metz with a stay in our spacious cottages at Les Trois Forêts. Comfortable, well-equipped and deep in the heart of the forest, you will be far away from the stresses of everyday life in this haven of peace. For an extra luxurious stay, book a VIP cottage, complete with jacuzzi and private sauna!
A holiday in Metz at Les Trois Forêts in Metz is sure to be unforgettable.
Locate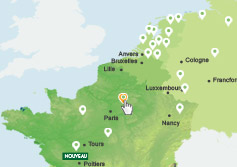 Zoom in the map
There are 1 results that match your criteria

Family fun and the luxury you deserve in an awe-inspiring forest.
From


€ 129
€ 199
2 nights for 4 Ppl.
* The prices shown exclude reservation costs (€29,50 per booking), mandatory bed linen for Comfort cottages in the Netherlands, Belgium and Germany, tourist taxes and other fees.