Holiday park in Nohfelden
Holidays in Nohfelden
Park Bostalsee - Saarland
Enjoy a holiday full of adventures at Centre Park Bostalsea in Sankt Wendel
Located in western Germany close to France and Luxembourg, the Park Bostalsea is a dream destination for lovers of sport, adventure and thrills. Those who like to relax are also in the right place, as the surrounding nature and opportunities for relaxation are sure to make your cares just melt away.
With its idyllic landscape of rolling hills, Park Bostalsee is the perfect base for a sport-filled vacation in Saarland. The lush landscape can be discovered on foot or by mountain bike, both great activities for a holiday with children in Sankt Wendel. Just a stone's throw from the Park Bostalsee lies the aviation museum in Hermeskeil, and Peterberg Natural Park Saar-Hunsrück with its famous summer toboggan run. Culture lovers will appreciate the Celtic ramparts of Otzenhausen, as well as the nearby city of Trier. There are so many opportunities to explore on your holiday in Sankt Wendel.
With its many activities for guests of all ages, Bostalsee Park promises an idyllic family holiday in Sankt Wendel. Adults can love the excitement of the Adventure Trail, while children can splash around in the Sankt Wendel Water Park. Children will have fun with the giant slides, water guns and the whirlpool, while adults relax after an enjoyable day on the Adventure Trail. More than 60 activities are available in the Sankt Wendel Leisure Park.
You can't go wrong with a visit to Sankt Wendel Leisure Park. In addition to its many thrilling activities, it also provides accommodation options such as luxurious cottages complete with lake views. The large shimmering lake also makes it an ideal destination for water sports enthusiasts and those who want to learn to sail or surf during a holiday in Germany.
Whether you're on holiday for a weekend in Sankt Wendel with family or friends, there's plenty on offer. Enjoy the many sport and relaxation activities, guaranteed to help you relieve the stresses of everyday life. For a memorable holiday in Germany, Bostalsea Park is the place to be.
Locate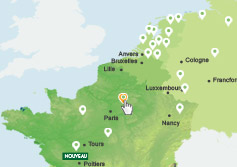 Zoom in the map
There are 1 results that match your criteria

A holiday full of action at the water sports lake Bostalsee in the rolling Saarland.
From


€ 119
€ 179
2 nights for 4 Ppl.
* The prices shown exclude reservation costs (€29,50 per booking), mandatory bed linen for Comfort cottages in the Netherlands, Belgium and Germany, tourist taxes and other fees.