Holiday park in Poitiers
Holidays in Poitiers
Le Bois aux Daims - La Vienne
Experience the animal kingdom during a unique stay in Poitiers
Located in central-east France near Poitiers, Nantes, and Tours, you are guaranteed a wonderful stay at Le Bois aux Daims, and the region's flora and fauna will be yours to discover.
Prepare to be plunged into a magical world surrounded by animals. Ideal for a family holiday in Poitiers, the nearby field is home to hundreds of deer, and the working farm lets you get close to the majestic beasts. A holiday in Poitiers including a stay at Le Bois aux Daims provides a unique opportunity to discover the famous Futuroscope, one of the most exciting amusement parks that's sure to delight young and old visitors alike. It is just 50 minutes from Le Bois aux Daims, so is easy to visit even if you're only staying for a weekend in Poitiers. As if that wasn't enough, the Loire region is nearby and can easily be visited by bicycle.
For holidays with children in Poitiers, Le Bois aux Daims is the ideal destination. In addition to spotting numerous wild animals, young visitors can enjoy the breath-taking Poitiers Water Park with its four slides. Located on 260 acres of unspoilt nature, Poitiers Leisure Park is an ideal location for your holiday. Animal lovers will delight in watching the fish swim amongst the corals.
Adventure lovers will have plenty to do as well! The Poitiers Leisure Park offers plenty of thrills, including the famous Turbo Speed ride. Those who like to pamper themselves have come to the right place too, as the Poitiers Leisure Park offers an immersive Deep Nature Spa, home to over 1,300 square metres of relaxation. With a bio sauna, laconium, Turkish bath, aromatherapy bath and sensory showers, you're sure to have a relaxing time away from the chaos of the city!
Treat yourself to an unforgettable
holiday in France
by staying in the spacious accommodation at Le Bois aux Daims. Choose from luxurious cottages nestled in the heart of the wilderness, or unique treehouses for a once-in-a-lifetime experience. We recommend the latter if you're looking to have a memorable holiday with children in Poitiers.
Le Bois aux Daims is the perfect place for enjoyable Poitiers holidays.
Locate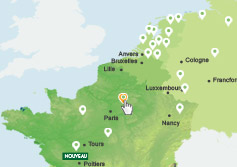 Zoom in the map
There are 1 results that match your criteria

In the heart of nature, eye to eye with the animals.
From


€ 229
€ 319
2 nights for 8 Ppl.
* The prices shown exclude reservation costs (€29,50 per booking), mandatory bed linen for Comfort cottages in the Netherlands, Belgium and Germany, tourist taxes and other fees.