Holiday park Verneuil sur Avre
Holiday park in Verneuil sur Avre
Holidays in Verneuil sur Avre
Les Bois-Francs - Normandy
Verneuil-sur-Avre - where architecture and abundant nature meet
At the heart of Normandy, just a few hours from Paris, you can stay in the little piece of heaven that is the Verneuil-sur-Avre leisure park. The impressive architecture of the town will delight curious visitors on holiday in Verneuil-sur-Avre and it has many beautiful sites of interest, particularly the church of La Madeleine. The town's buildings give its streets a particular colour, especially in the town centre. This
holiday in France
is the perfect way to discover the beauty and charm of Normandy.
The Verneuil-sur-Avre water park, Les Bois-Francs, is located at the very heart of the forest, and there you can admire a majestic château near the activity areas. You can walk there or go there on horseback. The cottages are fitted with a sauna so you can relax after action-packed days during your family holiday in Verneuil-sur-Avre. You can enjoy outdoor activities in the large park or different services and areas inside the Dome (restaurants, swimming pools, relaxation area, etc.). During your weekend in Verneuil-sur-Avre, you can unwind at the Deep Nature Spa, where a team of professionals will provide you with treatments.
The romantic nature of the forest makes it the perfect place for couples to stay, and the many activities available at the leisure park will keep the whole family busy, so your holiday with children in Verneuil-sur-Avre will be perfect!
The 9-hole golf course facing the château combines nature and entertainment, as does a long trek on horseback in the Verneuil-sur-Avre leisure park. Children can enjoy magic moments with ponies and other animals on the farm, as well as various play areas and face painting. An original activity will also be a source of amazement for 8-11 year-olds - the circus workshop. A holiday in Verneuil-sur-Avre at the heart of the forest in Normandy is an opportunity to relax and try out original activities.
Locate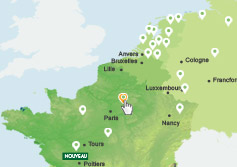 Zoom in the map
There are 1 results that match your criteria

Embrace the peace and quiet or go in search of the action at this green oasis.
From


€ 110
€ 129
2 nights for 2 Ppl.
* The prices shown exclude reservation costs (€29,50 per booking), mandatory bed linen for Comfort cottages in the Netherlands, Belgium and Germany, tourist taxes and other fees.