Holiday park Noord Brabant
Holiday park in Noord Brabant
Holidays in Noord Brabant
De Kempervennen - Noord Brabant
Nature and a breath of fresh air in Noord Brabant.
Situated in the south of the Netherlands, the region of Noord Brabant will delight lovers of nature and open spaces. Luxuriant nature, a quiet environment and a multitude of activities combine to offer ideal conditions for family holidays in the Netherlands. In particular, the surrounding areas of Westerhoven are extremely suitable for family holidays in Noord Brabant and offer a fantastic natural environment for playing. You could visit the nature site of Malpie and explore the magnificent forest and heather on foot or by bike. The green village of Bergeijk also has forests, streams and greenery to explore. For more sporty holidays in Noord Brabant, you could go to the Montana Snowcenter to ski, no matter what the time of year. If you're looking for a more cultural weekend in Noord Brabant you can go for a stroll at your leisure in the small town Eindhoven, which combines modern and traditional architecture and houses the Van Abbe modern art museum. While on holiday with children in Noord Brabant, you can take full advantage of the facilities offered by the Kempervennen park and take part in many indoor and outdoor activities. The Noord Brabant leisure park has a playground, diverse activities and other shows, so you'll never get bored! You can also trying canoeing, climbing, or a high ropes course. If you're looking for a water park in Noord Brabant, the Kempervennen park has an incredible tropical pool bursting with aquatic adventures such as diving with fish. Finally, the pleasant setting of Kempervennen is a sanctuary for your holiday in Westerhoven: its little wooden houses on the water, beautiful lakes and the surrounding environment will provide you with the peace and quiet you need and allow you to recharge your batteries.
Noord Brabant : Discover our holiday park
Locate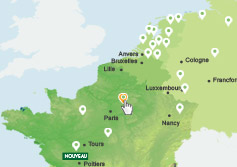 Zoom in the map
There are 1 results that match your criteria

Plenty of indoor and outdoor action, with nature as your playing field
From


€ 112
€ 139
2 nights for 2 Ppl.
* The prices shown exclude reservation costs (€29,50 per booking), mandatory bed linen for Comfort cottages in the Netherlands, Belgium and Germany, tourist taxes and other fees.