Holiday park in Sologne
Holidays in Sologne
Les Hauts de Bruyères - Sologne
Holidays at the foot of the châteaux of the Loire valley in the natural village Les Haut de Bruyères At the very heart of France, halfway between Orléans and Vierzon, the village Les Hauts de Bruyères is a little piece of nature sheltered from the stresses of the city. On the outskirts of the woods is the small municipality of Lamotte Beuvron, the ideal base for a holiday in Sologne. When it comes to successful holidays in Sologne, there's nothing like the Les Hauts de Bruyères park. In an unspoiled landscape interspersed with the châteaux of the Loire valley, worthy of the most beautiful fairytales, a multitude of activities are available to you. Set off and explore the village on foot, on a bike or on horseback, and enjoy an idyllic setting which offers all the peace and quiet you could need. Want a bit of action? Head to the Sologne water park, Aqua Mundo! Its waters are heated to 29 degrees for your enjoyment, and it is bursting with exciting features for more daring types: hurl down the Topsy Turvy or the crazy river and enjoy the wave pool. It's impossible to get bored while on holiday in Sologne! For holidays with children in Sologne, young mothers will also appreciate the baby swimming activities that are supervised by experienced instructors where children can take their first strokes in the water. Spend a weekend in Sologne where you can enjoy relaxing moments and switch off from the stress of everyday life. In the Sologne leisure park, you can find refuge at the Deep Nature Spa, which offers a whole range of treatments and massages, and a team of professionals is at your service. A holiday in Sologne is a dream opportunity to spend part of your holiday in Lamotte Beuvron. In this small municipality located at the edge of the woods, discover the charm of village life and enjoy its market, quiet setting and slow pace. While on
holiday in France
, take a trip in a hot air balloon to get a great view of the châteaux of the Loire valley and enjoy a unique experience at the top of the huge trees which line this historic river.
Sologne : Discover our holiday park
Locate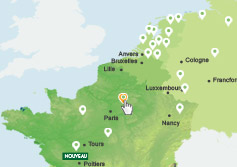 Zoom in the map
There are 1 results that match your criteria

Stunning nature and magical castles in the heart of the Loire.
From


€ 159
€ 239
2 nights for 4 Ppl.
* The prices shown exclude reservation costs (€29,50 per booking), mandatory bed linen for Comfort cottages in the Netherlands, Belgium and Germany, tourist taxes and other fees.