Download the park map
We recommend to visit the following places in the environment of Park Bostalsee
Premium walking
Back to the list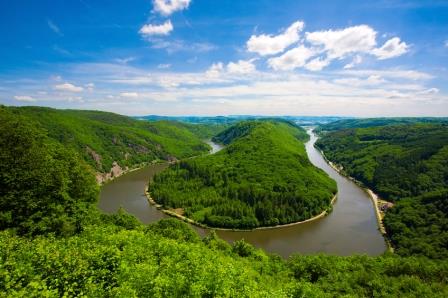 Tourismus Zentrale Saarland GmbH
Franz-Josef-Röder-Str. 17
66119 Saarbrücken
Germany

Open all year.

+49 681 927200
On the Premium trails in the Saarland and around Lake Bostal, you can enjoy walks on high-quality trails in an unspoiled environment. Premium stands for utmost walking enjoyment. Certified, well-signposted walking trails with a wide variety of natural impressions will leave you inspired and make your stay at Center Parcs Park Bostalsee a unique experience.
The easy, around 5km-long trail, not far from the source of the Nahe, takes you through a wide variety of forested areas, open fields and river valleys, making it the ideal trail for families with small children.
Those looking for longer, more challenging hikes will find what they're looking for on the barely 15km-long Rötelstein path, which leads through deserted gorges and the moorland and marshes of the Oberthaler Bruch. Along the way you'll pass many relics from ancient times, such as the Wildfrauenhöhle, or wild woman cave, the Güdesweiler chapel with its healing waters from the "Good Boer", the source of which was a meeting place for the Celts to perform rituals. A walking trail of medium difficulty is the 12km-long Bärenpfad (bear trail) which meanders through a great variety of rolling hills, and past bears' dens and bear rocks.
That's just a small selection of the many Premium walking trails around Center Parcs Park Bostalsee. On the Saarland tourism website (Tourismus Zentrale Saarland GmbH) you'll find an overview of all the trails.